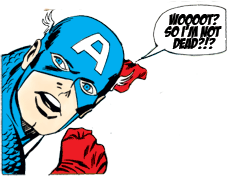 Big surprise…right?
"The tenor of the world now is when we're at a point where we want to believe in heroes. Someone who can lead the way," said Tom Breevort, Marvel Executive Editor. "It just feels like the right time."
He forgot to add, "…to stuff some more money in our pockets." Sure, milk the Captain for what it's worth. The poor guy didn't even have a chance to rest in peace. Now…I am really curious how a normal buff military guy (remember, Captain America didn't have any super powers like other Superheroes) comes back to life after being blasted through the heart by a high powerd sniper's rifle. AND, that didn't land him in the hospital on life support. Nooo, he had a funeral…coffin and all…attended by all his Avenger friends. Read my previous post, CAPTAIN AMERICA…WHAT?!!!, to get up to speed.
So it will be interesting to see how this turns out. The comic book comes out on Monday and I will probably add it to my signed collection of one (the one where he is killed, signed by Ed Brubaker) if I can get to the Comics Factory.
If you are a Fan of Captain America and have a four-legged Superhero like I do, then check out the CAPTAIN AMERICA Collection by Chi WOW WOW.