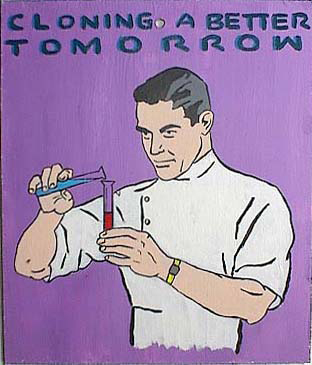 Florida Couple Clones Beloved Dog
This article stopped me dead (no pun intended) in my tracks because I often wonder what it would be like to clone the love of my life, ELVIS. What a bummer that he was neutered; one of the requirements when taking on a rescue. Lost was the opportunity to sew his seeds and make little ELVIS replicas. Then came the thought of cloning, quite natural of a thought coming from someone who worked in biotechnology for many years. So now I see that it is actually happening and where else but in California. The company BioArts International has the "Best Friends Again" program that begs the question, "What if you could be best friends…again?"
Looking at the site, I can't help but think of Stephen King's, "Pet Sematary" where the family cat named Church is brought back and all appears good but only for awhile. I guess my luck would be that ELVIS's clone turns out to be like Church from the book, taking pleasure in only things that annoy a person and void of emotion….oh yeah, and smelling like roadkill.
So I guess I will finish off with a quote from the Humane Society as the disclaimer to all this sci fi, new age-y pet experimentation…
"For those looking to replace a lost pet, cloning will not create an animal identical to the one who is gone; cloning cannot replicate an animal's uniqueness. Cloning can only replicate the pet's genetics, which influence but do not determine his physical attributes or personality."
- The Humane Society of the United States
Just in case…I'm going to save some of ELVIS' DNA, it couldn't hurt?
UPDATE TO POST (June 1, 2013): Read why BioArts International is no longer cloning dogs
Six Reasons Why We No Longer Clone Dogs