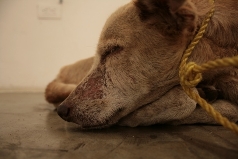 "Juanita Bermúdez, director of the Códice Gallery, insisted [the dog] escaped after just one day. She said: 'It was untied all the time except for the three hours the exhibition lasted and it was fed regularly with dog food [Vargas] himself brought in."
So many people have sent me the disturbing email containing the petition against Costa Rican artist, Guillermo Vargas. It indeed is very disturbing and incomprehensible, BUT so horrifying it occured to me that maybe it wasn't true? Let's face it, how is it possible that with all the people that must have seen the exhibit, not one person went ballistic? Everyone I know who would have happened upon that, would have simply untied the rope and walked out with the dog in plain sight, no? So, I started looking into it and lo and behold, it appears that it was a publicity stunt.
We live in a time where the internet has become a popular vehicle for all types of self promotion and a platform for an idividual's political voice. I am trying to determine whether this is a sick publicity stunt or a deeper message regarding humanity. Right about now, it would be decent if the artist would come clean with the real story and his intent. Rest assured, that if the story was true, PETA (click and read their blog on the topic) wouldn't be sitting around waiting for another cruel act for art's sake. When something seems out of whack, I usually pull up one of my favorite sites, Urban Legends to get the real scoop. I hope this blog sheds a consoling light on the state of the matter. I know many of you have been having nightmares about it, as I have.